If an Achievement Standard must be added to a subject after the school year has begun you may follow these steps to:
Add the Assessment Standard - click here for instructions, then
Enrol each class to the Assessment Standard (see below)
With Synergetic open:
Select Assess > Student Results Maintenance. The Set Student Results Search Criteria box will appear.
Enter the Assessment Code. (Be sure that all other text boxes are empty except for File Type and File Year)
3. Select the Single Student tab
4. Identify the newly added Achievement Standard and tick the Enrolled box in its row. Do this for each student in every class.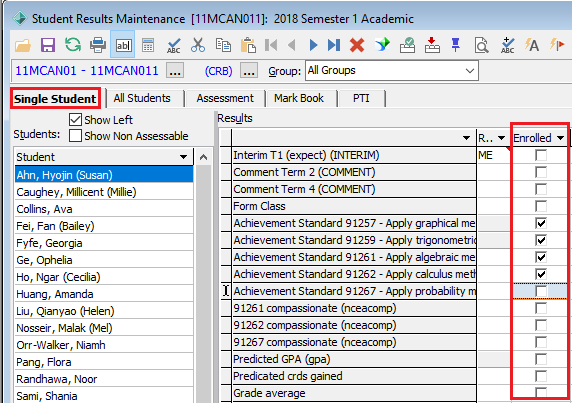 **Note: If an Assessment Area is assigned to a class before students have been added to the class students will be automatically enrolled into standards. Please see 'Setting the Default Print Flag (Enrolment) for a Standard'.