In this article
When playing Videos on Vivi, we recommend you use the 'Play Direct Video' feature. You can use this when playing videos from Youtube or Clickview. For help playing Clickview videos directly on Vivi, please see Clickview
What is Vivi?
Vivi is a wireless screen mirroring system which allows you to mirror your computer screen to a Vivi supported Display in the College. This avoids the need to use a VGA or HDMI cable to your screen or projector, and allows the presenter more flexibility in the classroom.
To use Vivi you need to install the Vivi application on your computer. Vivi supports Windows, Mac OS, iOS and Android.
You can download the Vivi application from https://www.vivi.io/downloads
Note for Mac Users: Vivi is also available for you to install from Self Service.
How to use Vivi
1. Download and install Vivi onto your computer
2. Log into Vivi using your College Username/Email address and password.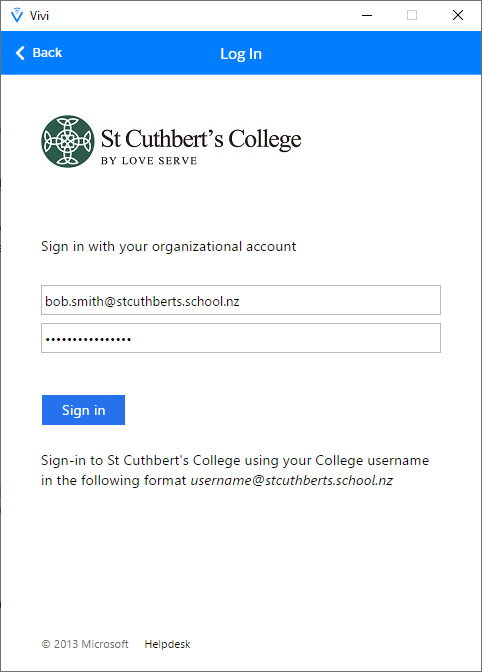 3. Select your room, which are split out by School -> Building -> Room. You can also just type the room name into the Search box to find your room. eg "i5" or "C2"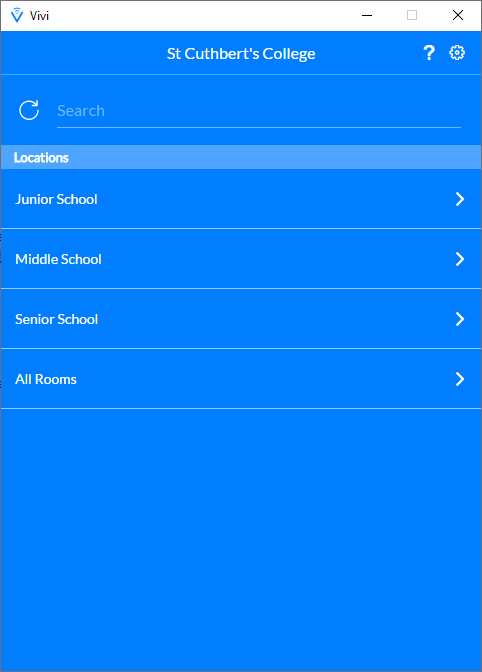 4. Once you are connected to your room, select 'Present my screen"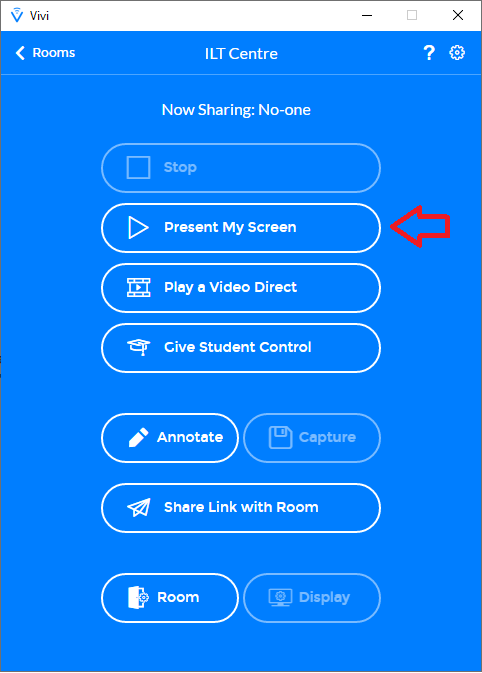 Your computer will will then be mirrored. NOTE FOR MAC USERS: If you are using a Mac Computer, you will be given the instruction to click on the AirPlay icon at the top of your screen, and select the room from there.
5. You can get Vivi to play a Video on your room screen by pasting a link from Youtube. Click on the button 'Play a Video Direct', and then either upload a supported video file, or paste a Video URL. Vivi will play the video for you, and allow you to continue using your computer.
6. You need to leave Vivi open or minimised on your computer while you are wirelessly presenting to the room screen.
For more information on how to use Vivi, and for information on how other teachers are using Vivi, please refer to the Vivi website https://www.vivi.io/classroom-resources
FAQ.
How do I know if my classroom or meeting room has Vivi?
Rooms with the Vivi system will have a blue Vivi sticker located at the front of the classroom either on your Screen or in the corner of your whiteboard.
You can also find the full directory of Vivi units when you open the Vivi app and list the rooms in each building.

How do I allow my Students to present to Vivi?
The student should log into Vivi using their own email address and password, and join the Room.
The teacher should then click on 'Give Student Control' on the teachers computer. The teacher and student need to be connected to the same room in Vivi.
Once the teacher gives student control, the student can click the 'Present my Screen' button.
Vivi stops mirroring my screen after a few seconds, why?
Make sure Vivi is running on your computer while you are mirroring to Vivi. If you shut down Vivi on your computer, then your mirroring will stop.
Vivi is not showing on the screen in my room
Ensure that your screen is turned on, and that the screen is set to the correct HDMI input. This is typically HDMI 1.
You should see a screen with the Blue Vivi screen on it, with the name of the Vivi room at the bottom.
My Room has TWO screens, how can I present to both screens?
When you open Vivi and select your room, click on the 'chain link' icon.

You will then be asked to select which screens you want to present to. For Example, in Classroom i0, there is screen i0-a and i0-b. You can select these two screens.
Now when you use this classroom, you will be asked if you want to present to screen a, or screen b, or Both!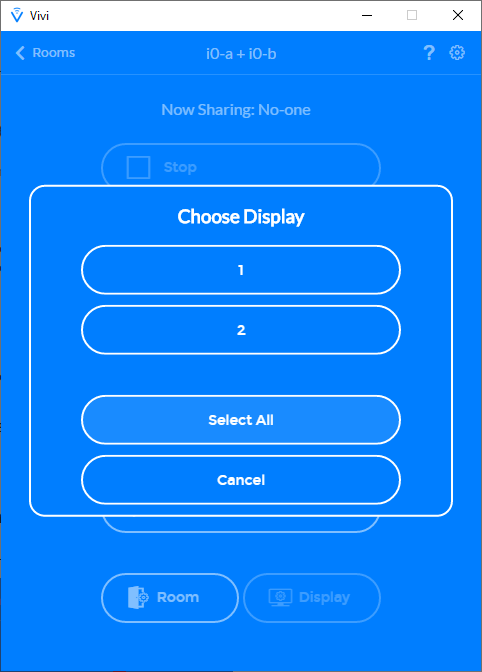 I have a Guest to the College, can they use Vivi?
Yes. You can issue your guest with a temporary Vivi Login code to use the Vivi in your room. (NOTE: You must not use your College username and password for your guests to use)
1. Your guest will need to connect to the College SCC GUEST wireless network, and download the Vivi application from the internet. They can find it by Googling 'Vivi Downloads' or go to https://www.vivi.io/downloads
2. On your computer, open Vivi, and find the room you are using. Click on the 'Room' button at the bottom of your room page.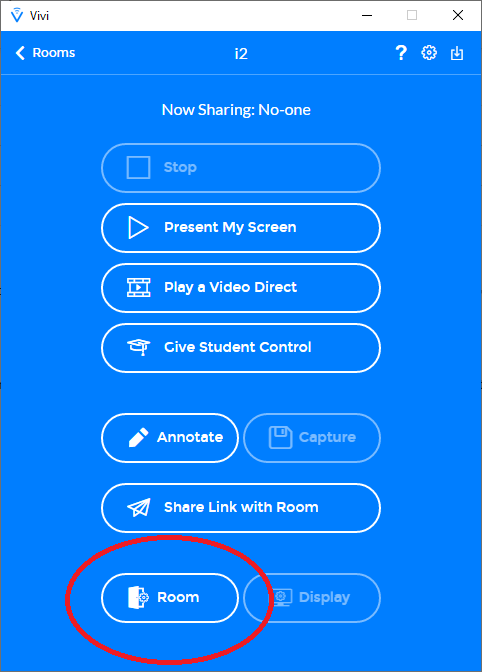 3. click on 'Invite Guest Presenter'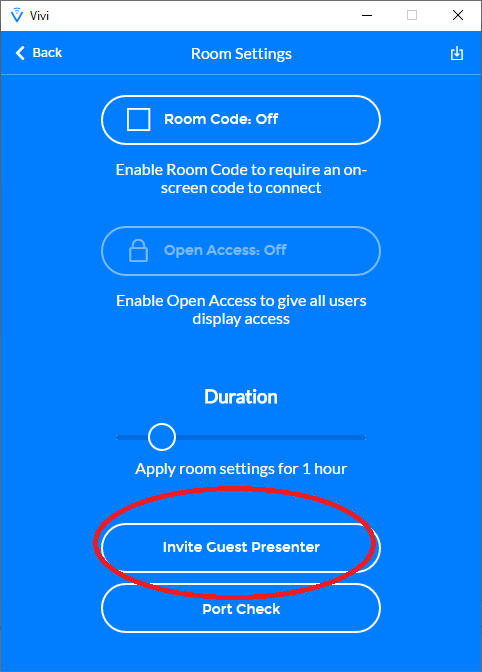 4. Choose a duration for the guest code to be active, and then click 'Create Guest Code', Give the guest code to your guest, which they can log into Vivi using the guest code. NOTE: Do not give your College username and password to anyone.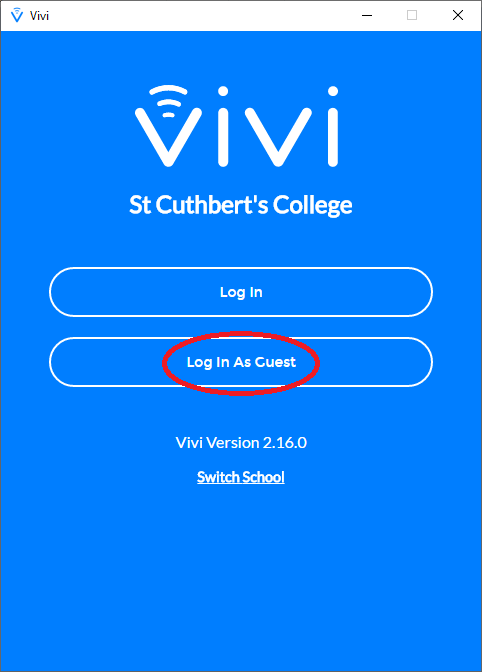 Vivi Updates
Occassionally when you open Vivi, you may see a notice that there is an update for Vivi. You will need to download and install the update to make sure that Vivi works optimally.
1. In Vivi, click on the download button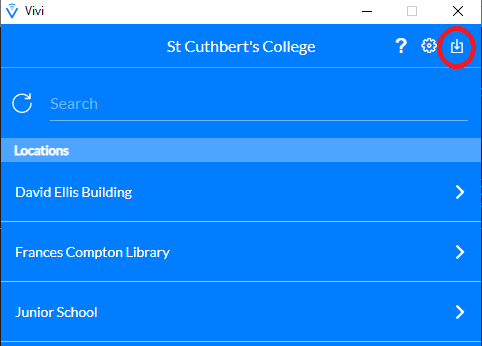 2. Download the Update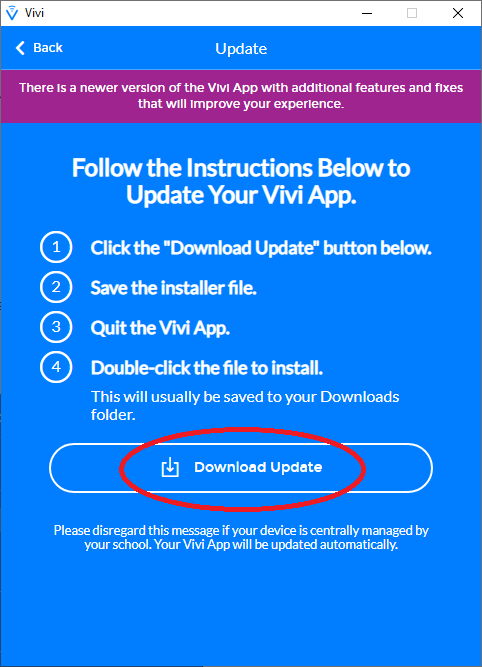 3. Once the Vivi installer has downloaded, open the downloaded file from your downloads.
4. Run through the wizard to install Vivi. Keep the default options and just press next.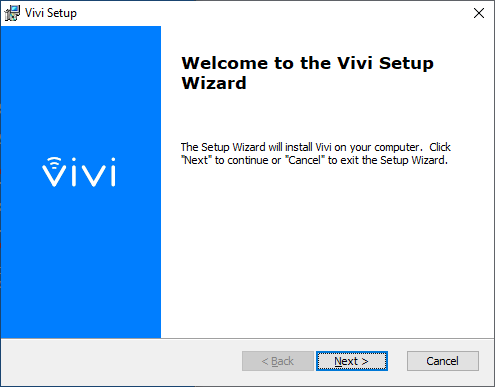 5. Once the install has finished, open Vivi and you should now be running the latest version.