Using a list of students in a Synergetic 'Tag List' allows you to perform bulk functions such as emailing the students (or their parents). This 'how to' article contains sections on how to
load a saved Tag List of students,
load a saved list of students from Excel
Also, see How to instructions to:
Create a Tag List
Save a Tag List
Load a Tag List
Modify a Tag List
Email from a Tag List
To view your Tag List window:
Go to Window > Show Tag List.
Note: your Tag List will appear to the right of the screen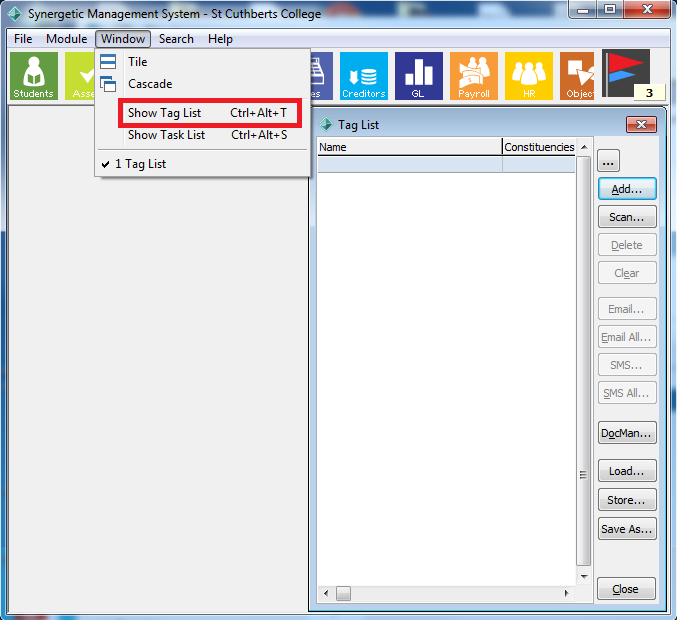 1. To Load a saved Tag List:
Click Load


The Load Tag Lists window will open. Click on the list to be loaded and then OK

NOTE1: To load a saved Tag List created by someone else, check the Include all public lists option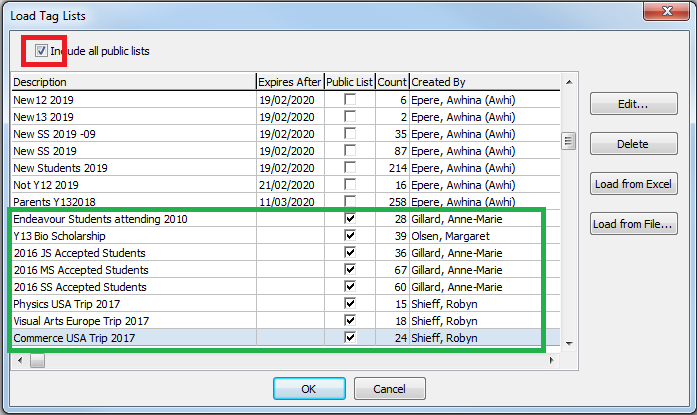 NOTE2: Currently there is no search feature in this area,
however you can make it easier to search by sorting the list based on any of the available columns (e.g. if you would like to search by "Created By", simply click the words "Created By", and the list will be reordered alphabetically by the surname of the staff member who created the list).  Once you have found the list you require, click on it, then click OK to load the Tag list.
2. To Load a list of students from Excel:
TIP:  Open the Excel document and ensure that it is the only Excel document open.
In the Excel document
Column A must contain the Synergetic ID numbers of the records you wish to import
If there is data in the rest of the columns, it will be ignored for the import
Select Column A by clicking the column header (i.e. the letter "A" at the top of the column)

In Synergetic
See Steps above to view the the  Load from Excel. Click Yes on the window that appears, and your Tag list should appear.


Click Yes to import the student ID's

 See also: